Discover more from 3 Hole Press Newsletter
Updates from 3 Hole Press, a small press for performance works in printed formats
Over 1,000 subscribers
MORE STUPIDS
A new book to give and receive
We are so happy to announce the digital release of MORE STUPIDS, by artist Emmy Bright. MORE STUPIDS is a book and deck that commingles autobiography, critical theory, diagrams and dumb jokes.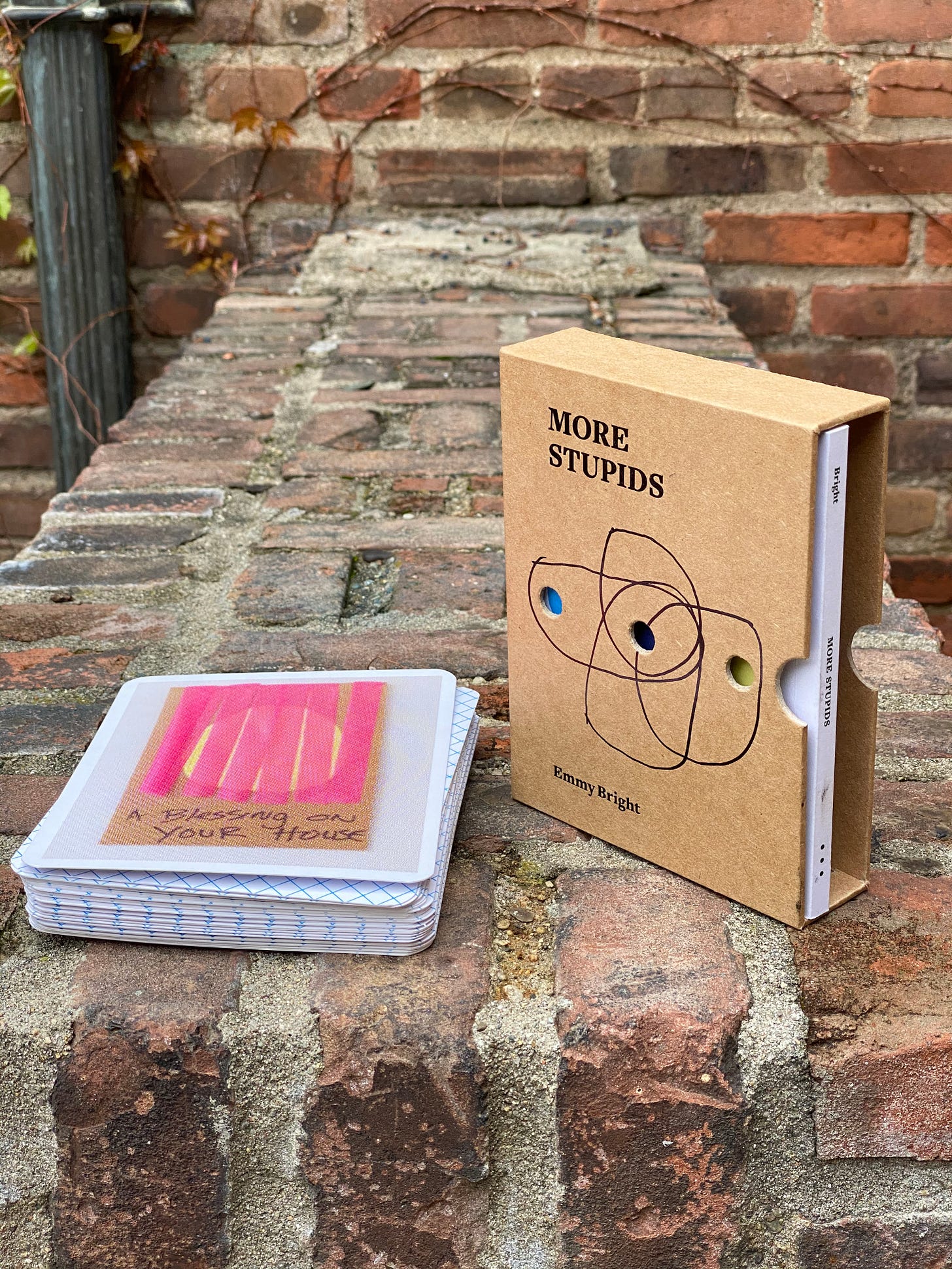 You may use the set in many ways.
None are correct.
PRAISE FOR MORE STUPIDS
A queer post-modern tarot-esque deck that serves up hilarious and sensual fodder for foresight and insight that comes from the often overlooked encounters in life.
— Paula Wilson
MORE STUPIDS is not. Emmy Bright's visual pleasures, clarity, sense of fun are matched by her textual probity and intelligence. More Stupids illuminates. Bright's art is, in my humble opinion, brilliant.
— Lynne Tillman
For us, MORE STUPIDS has offered a sense of orientation, critically-grounded uncertainty, and acceptance of lack of meaning!
---
A GIFT FOR SOMEONE YOU LOVE OR LIKE
In the tradition of giving tarot decks as gifts, we are pleased to give 50 digital copies to the first 50 people who sign up (click here!) to *give* MORE STUPIDS to a friend.
This book is such a companion, and it feels so good to support our loved ones right now that we wanted the release the project this way.
---
IF
YOU
WANT MORE STUPIDS
PRE-ORDER the box set (with a discount!) and get an immediate digital download of the book and deck. For our Kickstarter supporters who pledged toward a preorder, we will be sending you a digital copy as well.
---
EVENTS
This digital release also marks a 10-day series of events with Emmy on our Instagram page! Starting tomorrow, May 12th, at noon EST (ish) and continuing for the next 10 days, Emmy Bright will pull one card from MORE STUPIDS, and do a short reading to offer some orientation for the day. We hope this provides an alternative, refreshing way to mark your day while all of our days have begun to blend together.
---
THE RECENT PAST
Will Arbery was named as a Pulitzer-Prize finalist! We are so happy for Will and the many more people who will get to feel the delight and despair that reverberates through his work.

We created a literary care package, with digital books by Miriam Atkin (Wendy's Subway), Agnes Borinsky (3 Hole Press), Marcella Durand (Futurepoem), Augustín Guambo (Ugly Duckling Presse) & Catherine Wagner (Fence), which we gave to the first 100 people to sign up. This happened within 1 day! We wanted to thank you all for your interest and sweet comments.
This is one thing. One that feels good. Sharing this work with you.
Stupidly,
RKN & MML
3 Hole Press