Fall News from 3 Hole Press
3 Hole friends hello!

We would like to invite you first fall event: An intimate Snack Tasting Menu by chef (and 3 Hole's first cookbook author) Danny Licht, on Saturday, September 21st at 6 pm in Brooklyn. The evening will be a peek into Danny's process in creating Cooking As Though You Might Cook Again, a cookbook that promotes practical reuse and total creativity. Danny will make *three* snacks from fresh shell beans and we will collectively create a punch. Tickets are $25. We are limited to 15 seats. To reserve a spot, please RSVP to 3holepress@gmail.com with the subject line beans.


. . .
On Sunday, September 22nd, drop by booth #437 at the Brooklyn Book Festival, where we'll be sharing a table with Future Poem and Wendy's Subway. Buy a book, chat with Rachel, catch a panel!
. . .
We are putting the finishing touches on the design of Emmy Bright's More Stupids. We got so excited about the back of the box, we needed to share it with you now!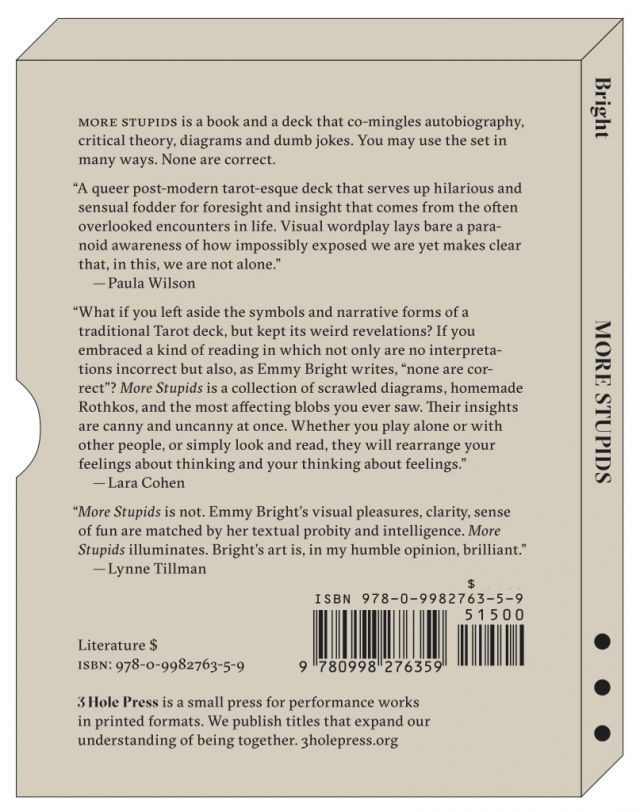 You will be able to pre-order More Stupids this fall.
. . .

Very soon, we will be embarking on our first fundraiser. We want to be in conversation with our artists, readers, and community as we go through this growth spurt. Would you like to support the Press? This doesn't have to be in the form of a monetary donation (though we love those, too!). Do you have any fundraising strategies or ideas? Give us a shout.
Thank you for being part of our community. We appreciate you so much.
<3
3 Hole
. . .
L O C A L N E W S
Will Arbery's Heroes of the Fourth Turning plays at Playwright's Horizons (New York) through October 27
In Conversation: The Black Aesthetic 1971-2019 will feature Aleshea Harris at the Harriet Tubman Center for Social Justice (Los Angeles), September 19
Mast on Fig (Los Angeles), a space for the development and communal sharing of experiential events and art works, is now available for short and long-term rentals
Asher Hartman's The Dope Elf runs at Yale Union (Portland) through October 20
Support the future of Another Gaze, a feminist film journal
. . .

3 Hole Press is a home for performance in book form and everyday life. We publish titles and offer programs that expand our understanding of being together. In order to keep our titles accessible and events free, 3 Hole Press operates using a non-profit model. Our titles are printed through the support of the New York State Council for the Arts, the Brooklyn Arts Council and contributions from readers. 3 Hole Press is a sponsored project of Fractured Atlas, a non-profit arts service organization. Contributions for the charitable purposes of 3 Hole Press must be made payable to "Fractured Atlas" only and are tax-deductible to the extent permitted by law. Support us here.