Discover more from 3 Hole Press Newsletter
Updates from 3 Hole Press, a small press for performance works in printed formats
Over 1,000 subscribers
books as care
books supporting communities, new books, gifted book, behind the scenes
Dear 3 Hole friends,
We're so happy to play a role in Turn the Page Movement this month! In their words, "We are a collective of writers, artists, and thinkers in pursuit of Black Liberation through literature. Alongside our community partner, Source of Knowledge, the only Black owned bookstore in Newark, NJ, we release a bimonthly Black Liberation Literature Collection. Instead of purchasing books from capitalist giants like Amazon or Barnes & Noble, consider buying from a Newark community pillar that invests in Black livelihood." Their fall reading list includes 3 Hole's The Immeasurable Want of Light by Daaimah Mubashshir, alongside works by Angela Davis, Tracy K. Smith, Jackie Sibblies Drury, and more. Check out the whole collection and support Source of Knowledge here!
In other book news that is good for the world, we have 1!!! copy!!! left!!! of our fundraising edition of Is God Is, signed by the great artist Aleshea Harris! Make it yours! All of the sale proceeds will benefit the National Bail Out Collective, a cause chosen by Aleshea, which we encourage you to support however you can, including spreading the word.
---
*Hot tip* There is 1 day left to purchase Emmy Bright's tarot-esque memoir-esque critical theory-esque MORE STUPIDS at its preorder discount! The sale price ends tomorrow night (Thursday, August 14th, midnight). Copies are at last in the mail—we are so grateful for your support, and so excited for you to get to experience the delight of Emmy's book and accompanying deck of artworks.
---
You are invited to peruse and download materials from our second Digital Care Package, made with Wendy's Subway. It is free! The initiative brings together materials that are engaging, informative, and comforting from several other small presses, recipe makers and restaurants, and arts collectives. Learn more below, and sign up HERE. The deadline to sign up is August 16!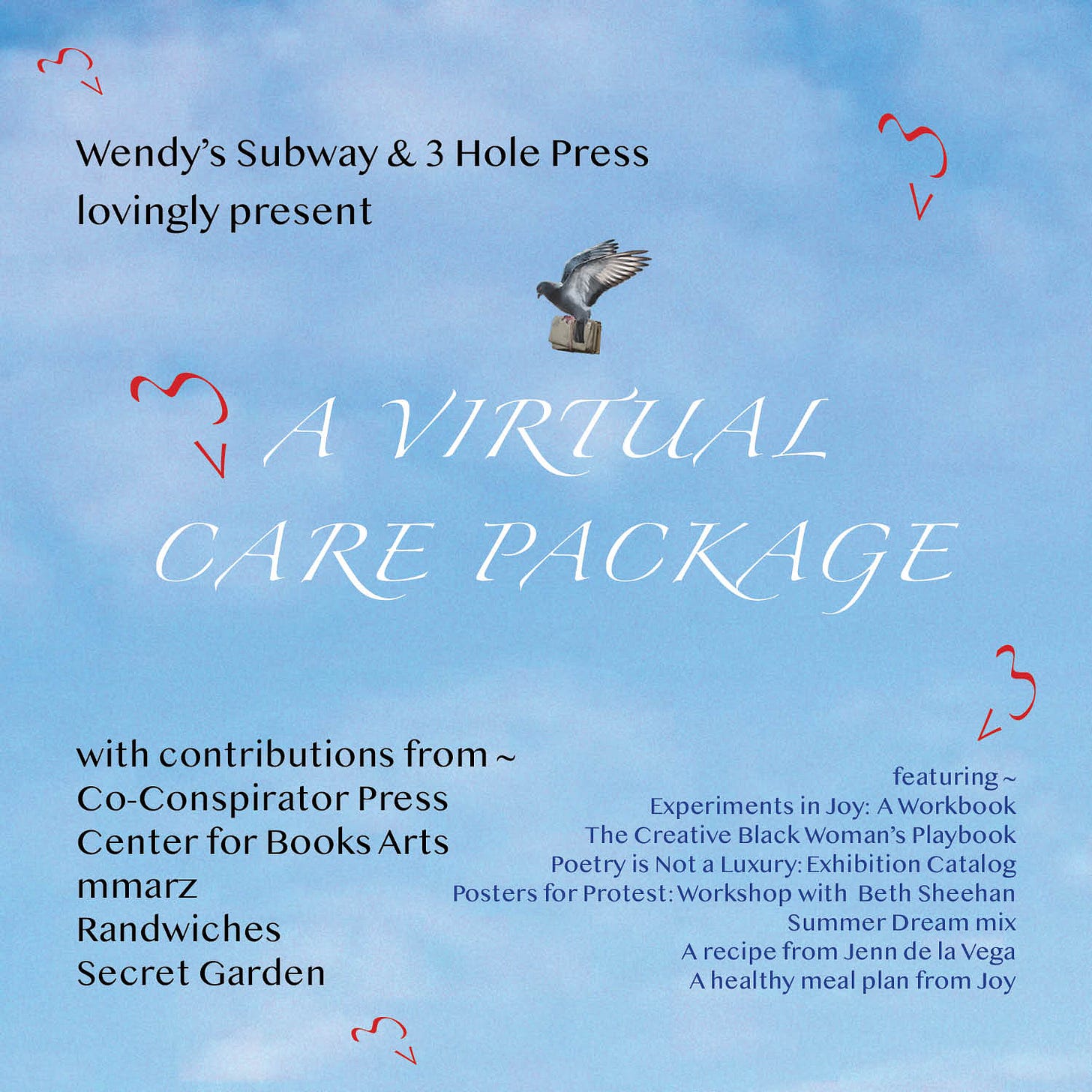 ---
(….behind the scenes….)
Our tiny team has grown this summer! The digital experience for our new care package, was staged/designed/coded by our new intern, Olivia Kan-Sperling, who is coming to 3 Hole with a particular interest in digital kinds of texts: What does liveness mean online, and what does that mean for theater/performance? What are online forums and virtual worlds if not sites for play/dialogue/action, and what kinds of reading experiences can we stage online? …. Especially, of course, "in times like this." Welcome to 3 Hole Olivia, and thank you for bringing us into the world of pixels!!
Published by our friends at the wonderful Thick Press, we are beyond thrilled to officially announce the publication of STAGES: On Working, Dying, and Feeling by our founder and editor Rachel Kauder Nalebuff! STAGES feel more vital now than ever. A hybrid nonfiction book made up of interviews with care workers, as well as meditations on Rachel's own youth and relationships, STAGES asks the question, Can care be enacted through art? Order your copy here, through Thick Press.
Here's what Elif Batuman had to say about STAGES:
STAGES is one of a very few recent books I have read that feels truly revolutionary, in both form and in content. It consists of documentary materials assembled, in a style somewhere between Svetlana Alexievich and André Breton, by a young writer, while staging a theater production in a nursing home. In a series of eye-opening interviews, she talks to housekeepers and nurses from Jamaica and Ghana about ghosts and family structure; to a clinical nutritionist, who explains how she helps people stop eating food, after a lifetime of eating food. Basically we're on a tour of a parallel institutionalized world of aging and dying which has been zealously cordoned off from the rest of American life, and which is not without its Kafkaesque elements, but our guide, Rachel Kauder Nalebuff, is so humane, curious and visionary that the overall effect is energizing and uplifting. Reading STAGES gave me the revelatory feeling of looking at something I'd been dreading, and seeing that it was actually OK, and vital, and a major part of life. Stages brings humanity, humor, and a strong visual sensibility to a taboo subject, with exhilarating results. It expanded the way I think about family, theater, and a "good life."
—Elif Batuman, author of The Idiot
Lastly, we want to give a special shout out to Zoe and Chris who have been helping with mailing!
Wishing you well this August (August? How?!).
Love,
3 Hole